IE BUMPER
Office 365: Data Loss Prevention Policies
Article Number :
KB0017389
Published on :
2019-04-15
Last modified :
2019-06-22 16:18:28
Knowledge Base :
IT Public Self Help
What is DLP?
Office 365 Data Loss Prevention Policies, or DLP, prevents users from emailing sensitive data, like social security numbers, to external addresses and forces encryption on a large amount of sensitive information emailed internally. When Office 365 DLP detects sensitive information in a message to an external address from Office 365, the message will be rejected and the sender will be notified. When Office 365 DLP detects sensitive information in a message to an internal recipient, the message will be encrypted.
I Have Received an Encrypted Message
Depending on the internal recipient's client, if a message has been encrypted, they will see:

This suggests that the email client is not configured to view the encrypted message. The easiest way to view the message is in the Outlook Web Application.
I Have sent a message that has been automatically encrypted
No additional action is required on your part. You will receive a notification from postmaster@utexas.edu (seen below) and the recipient will receive instructions on how to open the encrypted message.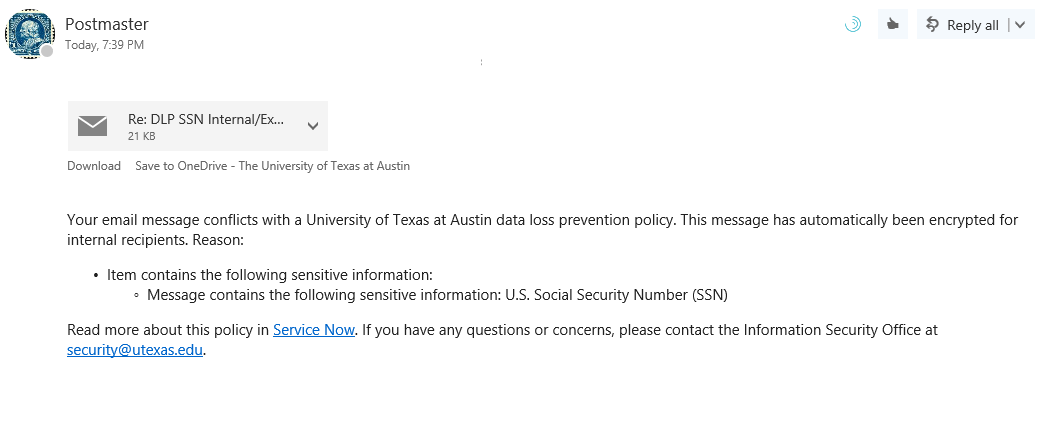 Where can I find more information?
More information regarding Data Classification Standards can be found at the Information Security Office Data Classification Guidelines page. Please review the Local and Cloud Services Decision Matrix to determine how to store or properly share sensitive information. If you have any questions or concerns, please contact the University of Texas Information Security Office at security@utexas.edu.
Permalink: utss/KAhome.do?number=KB0017389
Thank You! Your feedback has been submitted.
Feedback